I was quite surprised this morning to receive the Very Inspiring Blogger Award nomination from The Penniless Traveler. Check out her site; it features engaging destination posts from her bucket list with helpful tips for travelers with limited finances.  Thank you, Penniless Traveler!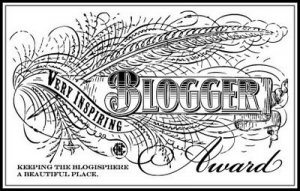 The rules of the award are as follows:
Rules:
1. Link back to the blogger who nominated you.  Accomplished in paragraph one.
2. Post the award image to your page. See above.
3. Share 7 facts about yourself. Hmmm. Here goes…
I love going to the movies by myself but hate eating alone in restaurants.
I think that noise-canceling headphones may be the single greatest invention of the past ten years.
I believe that the most meaningful gift a parent can give a child is the love of travel. Thank you, Mom and Dad!
I don't know much about fashion but I do know that a smile is an essential accessory.
I wish that politicians cared less about doing what's popular and cared more about doing what's right.
I get up at 5:15 each morning to write before going to the job that pays the bills and never hit the snooze button.
Nothing makes me happier than sharing a meal and a bottle of wine (or two) with good friends.
4. Nominate 15 other blogs and inform them about it. These are blogs that interest me and not all travel-related.  Please take the time to take a look; I think you'll like what you see.