If you can't give Mom a dream trip to Paris this year, get busy in the kitchen and make her breakfast in bed. But do it quietly! Let her sleep in and surprise her with one of these treats – don't forget the Bloody Mary too!
My Mother's Day celebrations have looked suspiciously like Father's Day…we get together for a backyard BBQ. After a long winter, it always feels like a waste of nice spring weather to head to a restaurant for a Mother's Day brunch.
What I've wanted…just once…would be a relaxing and indulgent Mother's Day breakfast in bed. It's a wonderful way to show your love and gratitude to Mom for all she does.
Day in and day out.
Year after year.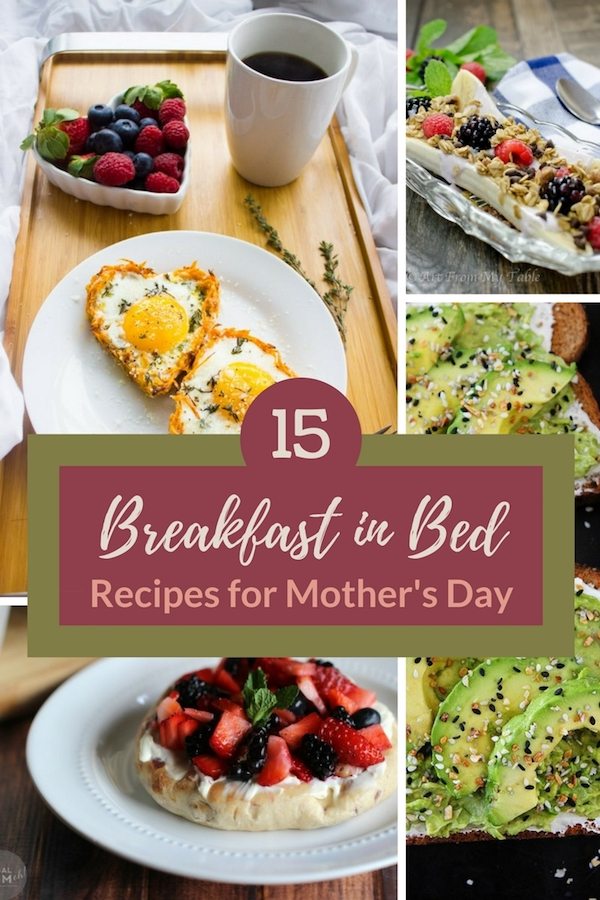 Don't know where to begin? Here's a collection of 15 gorgeous and delicious Mother's Day breakfast in bed recipes to get you started. Whether your mom likes a traditional breakfast, is super health conscious or prefers something more decadent, there's a recipe here for her.
Get up early and prepare that special treat. Serve it with a little coffee, tea or juice. Or a lot of vodka in a super spicy Bloody Mary. Amp up the "Love you, Mom" with a pretty serving tray and some flowers. She'll love it.
And don't forget, you do the dishes too.
15 Delicious Recipes for Mother's Day Breakfast in Bed
Jillian Michaels Frittata | BestofLifeMag.com
Breakfast Fruit Bruschetta | Frugalmomeh.com
Breakfast Banana Split | Artfrommytable.com
Chia Yogurt Breakfast Bowl | Azestybite.com
Everything Bagel Avocado Toast | Twopeasandtheirpod.com
Baked Croissant French Toast with Lemon Cream Cheese | Everyday-reading.com
5 Minute Paleo Gluten Free Banana Muffins | Paleoglutenfree.com
Spinach Mushroom Quinoa Breakfast Bowl | Cookinglsl.com
Baked Eggs in Sweet Potato Crusts | Twopurplefigs.com
Prosciutto and Gruyere Croissants | Alexandracooks.com
Cinnamon French Toast Bites | Recipetineats.com
Goat Cheese and Mascarpone Vanilla Bean Pancakes | Adventuresincooking.com
Hash Brown Egg Nests with Avocado | Thecookingjar.com
Baked Eggs En Cocotte | Livingsweetmoments.com
Avocado Toast Four Ways | Staceyhomemaker.com