Booking your cruise is the easy part. Then you start stressing about what to pack. There's an art to it, and if you're no packing Picasso like me, it helps to check out expert cruise packing tips.
You've booked your cruise and now you're wondering, "What do I take?" and, perhaps more importantly, "What do I NOT take?" Packing for any vacation can be time-consuming. It really helps to know in advance exactly what you will need. If you are headed to the Caribbean for 7 days or taking an adventure into the chillier Alaskan waters, you'll need to be prepared.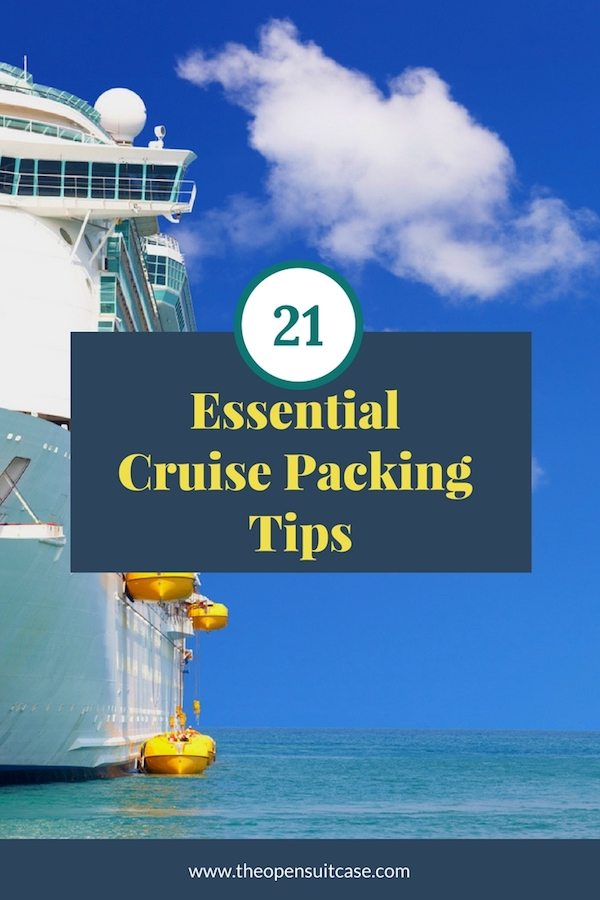 No more asking yourself where to start. With these 21 Cruise Packing Tips, you will be all set to enjoy your cruise vacation without a worry. I've only got two cruises under my belt. So I've already started to agonize about what to pack for my Greek cruise on Celestyal Cruises. I want to simulate an elegant goddess (or as close as I can get) not a frumpy yiayia (a Greek grandma).
Whether you are a novice or a seasoned luxury suite cruiser you will find something that you hadn't thought of before. Click away, make a list and get packing! There's a chaise lounge waiting for you on the lido deck!
Cruising 101 – Cruise Packing Tips | Familytravelsonabudget.com
10 Things You Will Be Glad You Packed For Your Cruise Vacation | 365daysofcrockpot.com
40 Useful Things to Pack for a Cruise | Anytots.com
10 Cruise Essentials You Can't Forget | Blissfulgal.com
5 Must Pack Cruise Items Travel Tips | Ahelicoptermom.com
What to Wear on Cruise Excursions | Pedalgoa.com
How to Pack for a Cruise to Alaska | Cruisemood.com
Packing Tips for a Cruise | Aroundmyfamilytable.com
18 First Time Cruise Tips | Traveladdicts.net
Top 23 Packing Tips for a Colder Cruise | Lucywilliamsglobal.com
Cruise Ship Tips and Tricks | Momresource.com
Ten Essential Items to Pack for a Cruise | Cruisemaven.com
Guide To Packing for a Cruise Vacation | Whereverimayroamblog.com
10 Things I Wish I'd Known as a Cruise Rookie | Mommymusings.com
10 Things I Always Pack on a Disney Cruise | Disneycruisemomblog.com
Packing for a 7 Day Caribbean Cruise | Seeyouinaporridge.com
25 Fabulous Tips on Packing for a Cruise | Adrianscrazylife.com
Ultimate Cruise Packing List | Flashpackerfamily.com
33 Things People Forget on Their Cruise | Cruiseradio.net
What to Pack for a Cruise: My List of Essentials | Cruisemood.com
What to Pack for a Cruise – 7 Days in a Carry On | Localadventurer.com
15 Best Things to Pack for a Cruise with Kids | Totallythebomb.com
What's your #1 Cruise Packing Tip?